This is a holiday like no other. For real.
Set in a year-round tropical paradise, the sailing conditions are almost always perfect. Our excellent selection of dinghies and catamarans waits for you on the beach and our friendly RYA-qualified instructors will guide you every step of the way. Whether you're an experienced sailor looking for a demanding Indian Ocean Sail-Away, or you're a novice looking to build some skills in the exotic but safe lagoons, this is without doubt the finest year-round sailing holiday on offer - and it's more affordable than you might think.
You come from far, so make the most of your travels. While you can certainly spend every day on the water, you may also choose a number of optional adventures already included in your package. From scuba diving, canyoning and kite surfing to guided tours, whale watching and so many other options – you may just have more than one life altering experience.
What you certainly will remember are the generous smiles of the local people, the breath-taking white sandy beaches that make you feel like you're in a TV-ad, and the old and new friends you'll share your experiences with. Why settle for a normal holiday when there are so many adventures to be had? Welcome to Mauritius!
Please call us on 01920 444 091 | outside UK +44 1920 444 091
Tried, tested and certified!
Wildwind has been an RYA recognized sailing center for more than 25 years, guaranteeing excellent standards of safety and instruction levels. As we do in our home base in Greece, on Mauritius we offer RYA certification courses at no extra charge.
Great, great sailing conditions
There are two excellent and distinct sailing areas around the centre of Wildwind Adventures. The protected inner bay has light cross-shore breezes and is perfect for learning, while the stronger winds outside the reef are ideal for blasting Sail-Aways in controlled sessions out at sea.
All our catamarans are equipped with spinnakers to boost the available sail area, and we have carefully chosen a classic range of mono-hulls, ideally suited for the weather conditions on Mauritius. Our dinghy and catamaran selection is supplemented by a brand new fleet of windsups.
Learn more
See it with your own eyes...
...well, on video that is. Hopefully soon you'll be able to hear, feel and smell this amazing island for yourself!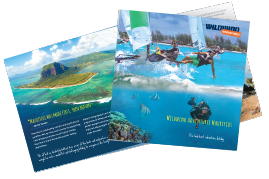 Download brochure
What's in it for me?
As much sailing as you like, using our fleet of dinghies and catamarans
Professional instruction for all levels by RYA certified instructors
Use of our excellent Windsup boards (a cross between a Stand Up Paddle Board (SUP) and Windsurfer) and instruction for all levels.
Airport transfers to and from the resort
Beachfront resort sporting stunning views
Half board meal plan
Tropical scuba diving
Swimming with dolphins in the wild
Canyoning at the Papaya River
Tropical kite surfing experience
Sea Kayaking trip - Ile D'Ambre Island
Catamaran cruise with BBQ lunch and open bar
Private tours of the island