The beach paradise holiday that active people have been dreaming of...
Over the past 30 years that we've been running our sailing holidays at the original Wildwind base in Vassiliki, Greece, the thing that we are most proud of is that so many of our guests come back to us year after year.
Unsurpisingly our reputation in the sailing community is really superb. At Wildwind, people know what they're getting: an amazing, safe and fun sailing experience in a relaxed and laid-back atmosphere.
Wildwind and Wildwind Adventures – what's the difference?
It's simple: Wildwind is for anyone who won't settle for less than the best possible sailing experience, and who want their holiday to be focused on sailing and time on water. Wildwind Adventures offers a superb sailing holidayexperience as well, but loads of other stuff, too. It's a more diverse holiday, perfect if you're the adventurous kind, and ideal if you travel with people who aren't all equally keen on sailing.
Who comes on a holiday with us?
Our largest groups of guests typically comes from Northern Europe, especially the UK, Germany, Holland and Sweden - though we also have agents in Austria, Hungary, Switzerland, Belgium and South Africa leading to a varied group of guests. Most of the instructors speak English, but we are also able to offer instruction in German.
Superb locations for water sports, fun activities and adventures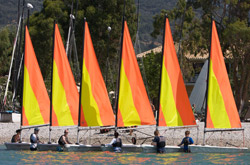 The main sailing centre of Wildwind and Wildwind Adventures (Greece) is in the bay of Vassiliki, on the beautiful island of Lefkas. With its excellent wind conditions, award winning beaches and incredible scenery, it is the ideal location for a sailing holiday.
Wildwind has also hosted the Hobie 16 European championships, as well as numerous other watersports festivals and competitions - it is a location recognised world-wide as a Mecca for top class sailing and windsurfing.
Wildwind Adventures organises holidays with sailing and much more in Greece from April to September. For more information, take a look at the site of Wildwind Sailing Greece.
Wildwind Adventures Mauritius - We also offer a 'year round' holliday on the beautiful island of Mauritius.
The goal of Wildwind Adventures is to make adventurous sailing holidays available for everyone, all year round. Mauritius is known as the pearl of the Indian Ocean and it surely is one of the most exclusive holiday destinations in the world. With its crystal blue waters, white sandy beaches, coral reefs and tropical rainforests, this is quite literally your escape to paradise!
Do have a look at our exotic Mauritius holidays here. http://mauritius.wildwind-adventures.co.uk/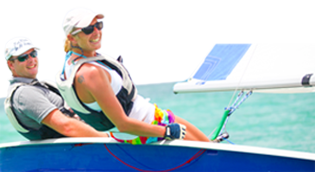 If you'd like a precise quotation for your holiday, with actual dates and availability, then click on the button below and we'll get back to you shortly.
Check availability