Great kit, qualified instructors and top quality beach sailing
Our sailing centre in Mauritius offers you a wide range of catamarans, dinghies and windsup boards as well as the personal attention that you'd expect from a Wildwind Adventures holiday. As the only RYA*-recognised centre in the entire Indian Ocean, we can guarantee excellent standards of safety and instruction levels. And, unlike most other sailing centres, there is no extra charge for joining in any of our RYA-certified training courses. (Click here to see our RYA certificate and find out more about the courses we offer).
Two distinct sailing areas
There are two excellent and distinct sailing areas around the centre of Wildwind Adventures, making it an ideal location for beginners as well as for our more experienced guests. The protected inner bay has light cross-shore breezes and is perfect for learning, while the stronger winds outside the reef are ideal for blasting 'sail-aways' in controlled sessions out at sea.
An excellent selection of equipment
Our comprehensive fleet of catamarans, dinghies and windsup boards has been selected as the most suitable for a wide range of skills and abilities while taking into account the prevailing conditions. All our catamarans are equipped with spinnakers to boost the available sail area, and we have carefully chosen a classic range of mono-hulls, ideally suited for the weather conditions on Mauritius. You can learn more about our fleet of sailing boats and equipment and about the weather conditions for sailing in Mauritius below.
Our dinghy and catamaran selection is supplemented by a brand new fleet of windsups. These are stand-up-paddleboards (SUPs) that can be also used for windsurfing, whereby planing is a realistic possibility in relatively light breezes.
Friendly and professional instructors
With a maximum of 20 guests on site at any one time, there are always boats available. The instructor/client ratio of 1 to 4 allows you to take advantage of one on one personalised coaching from our highly qualified team.
OK, now get a bit more specifics about your boats, please!
Because of the reef and the possibility of touching bottom, we have avoided any full-on high performance catamarans with deep dagger-boards. Instead we have opted for Hobie Pacifics, Hobie16s and 15s, which are perfect for the conditions on Mauritius and are all equipped with spinnakers.
Our dinghy fleet includes Laser Picos, a brilliant choice for kids and for those learning to sail for the first time.
Our Olympic class Laser 1s come with a full range of sail sizes and are available for improvers and experts alike.
Similarly, we offer Laser 2000s, which are ideal as teaching boats and for those with some experience to go out on their own. Our performance RS 500 single trapeze skiffs are perfect for our more capable clients and superb for our highly qualified instructors to teach more advanced skills, such as asymmetric spinnaker handling.
Our windsup fleet is comprised of brand new Starboard and Exocet boards, designed for both Stand Up Paddleboard (SUP) adventures and for learning how to windsurf. You can use these boards to progress to planing when conditions are right.
Certify yourself
If you want to come home from your holiday with more than a sun tan, you can request a course that leads to certification by the British sailing organisation RYA.(Royal Yachting Association) Not only do we offer the full RYA curriculum, we do so free of charge! From the basic skills course and first aid, to dinghy sailing with spinnakers, performance sailing or navigation and seamanship, we've got you covered. Simply talk to us about your wishes, preferably in advance and otherwise on the island when you meet the team.
You can find the complete RYA training catalogues on the website of the RYA.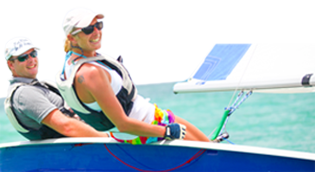 If you'd like a precise quotation for your holiday, with actual dates and availability, then click on the button below and we'll get back to you shortly.
Check availability