Scuba Diving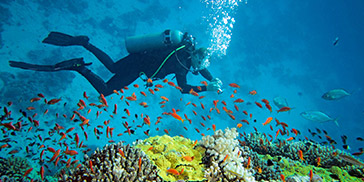 The term 'underwater paradise' might be a cliché, but rarely has it been more appropriate than in the waters of Mauritius. If you are a diver, you simply cannot come to Mauritius without exploring the magnificent underwater landscape. Large areas of natural coral are bursting with sea life, while the warm water is exceptionally clear.
Mauritius is home to some of the world's finest coral reefs and marine life ever to be seen. Teeming with hundreds of gaily-coloured fish, the underwater world of Mauritius can be deemed a natural wonder in its own right. There are about 430 different underwater creatures, including 200 different spices of coral. Some of the other uncommon water bodies spotted in Mauritius include Tuna, Wahoo and Marlin.
For experienced divers, there are two 2 hour dives included in your holiday package.
Are you a novice diver? Our Discover Scuba Diving Experience offers initiation dives that will let you try and experience scuba diving for the first time. You'll first have a lesson and a practise dive in the pool, and then you're off for your first dive at sea. This is a great opportunity to discover a new adventure and see the wondrous world beneath the waves.
The Discover Scuba Diving Experience for novice divers
Learn to dive in safe and controlled conditions under the direct supervision of the qualified instructors of Mauritius' friendly and professional PADI Dive Center. You'll learn how to use scuba equipment in shallow water or in a pool and will get a quick and easy introduction to the amazing underwater world. There is nothing like breathing underwater for the very first time. It takes a little getting used to, but after a few minutes most participants realize how easy scuba diving really is.
As part of this experience you will get to learn about the diving equipment, the basics of diving, and will also get to scuba dive in the open sea. This can be used as credit towards an actual diving course.
Requirements, limitations and surcharges
All the equipment necessary will be supplied by the diving centre, you don't need to bring anything.
Your adventure will be registered with PADI International, so you'll gain credit for a future diving course
You must be 10 years or older to take the Discover Scuba Diving Experience
The activity is accessible to anyone in good physical condition, not suffering from cardio vascular, hearing or respiratory problems. The diving adventure is not suitable for pregnant women.